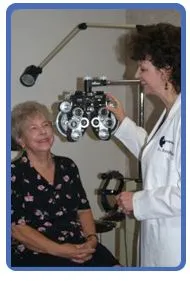 Do you know what we do?
Most people know that we examine eyes and fit glasses and contact lenses, but do you know that our doctors:
Dilate patients' eyes to look into the back of the eye to detect eye disease.
Can detect diabetes, high blood pressure, and other diseases by looking into the eye.
Treat eye infections and many other diseases of the eye and eyelids, including "pink eye".
Diagnose and treat glaucoma.
Remove foreign bodies from the eye.
Diagnose cataracts, perform cataract surgery, and provide after surgery follow up care.
Treat dry eyes.
Treat eye inflammations.
Perform refractive laser surgery and follow-up care.
Manage patients with diabetic eye disease.
Perform cosmetic eyelid surgery.
Provide emergency treatment for eye injuries.
Provide services for patients with vision impairment.
Diagnose macular degeneration.
Diagnose and treat vision-related learning difficulties.
The doctors in our office excel in treating 99 percent of all eye problems. For those conditions that we do not treat, we will recommend the best specialists. If you ever have a problem with your eyes, call (724) 378-8585 or (724) 774-7232. We are available for eye emergencies 24 hours a day, 7 days a week!
---
Comprehensive Care
A comprehensive eye examination is more than just determining a prescription for glasses. Many people are unaware that routine eye exams are an essential part of maintaining ocular health. The exams consist of a wide range of tests and procedures that evaluate the eyes and entire visual system.
By choosing Optometric Care for your comprehensive eye examination, you can be sure that you will receive the highest quality of eye care available, visit after visit, year after year. Our doctors devote their time to providing thorough, individualized examinations to patients of all ages. One-on-one time is spent assessing every aspect of the visual system, including visual function and eye health. Every patient is screened and tested to rule out various eye diseases and conditions like glaucoma, cataracts, and eye changes that can occur from potentially devastating systemic diseases like diabetes, high blood pressure, and auto-immune abnormalities.
Our doctors take pride in providing you with the care you deserve, and at Optometric Care, you can be sure that our comprehensive eye examinations will leave no stone unturned. We coordinate patient care with other members of the medical community, working together as a team to diagnose and treat 99 percent of all ocular and visual problems.
Call Optometric Care today to schedule your next comprehensive eye exam!
---
Contact Lenses
At Optometric Care, our goal is to provide all of our patients with the most technologically advanced options in the field of contact lenses. We pride ourselves on our ability to find innovative solutions for even our hardest-to-fit patients. We can successfully fit patients with unusual prescriptions, chronic allergies, dry eye syndrome and a history of previously failed contact lens experiences.
We specialize in a wide range of contact lenses, including disposable, colored, toric lenses for astigmatism, rigid gas permeable (or "hard" lenses), bifocals, monovision, specialty lenses for keratoconic patients, corneal dystrophies and masking lenses for disfigured or surgically altered eyes.
We offer patients a full range of the most up-to-date contact lenses to ensure a wearing experience that consists of the clearest, most comfortable contact lens wear possible. We maintain a large stock of trial lenses at both of our office locations, and under most circumstances, we will be able to send you home with a pair of lenses the same day as your fitting! The key to our success with contact lens patients is to provide an accurate fitting and vision analysis, follow-up care, in-office contact lens modification and individualized patient education.
If you are interested in learning more about our contact lens services, call Optometric Care today to schedule your next appointment!

---
LASIK Eye Surgery
If you are considering refractive surgery, then you've come to the right place! At Optometric Care, our doctors are actively involved in the co-management and follow-up care of LASIK eye surgery. We will happily answer all of your questions as we guide you through your individualized LASIK experience. We believe that a detailed, extensive patient consultation and meticulous preoperative testing are paramount to a successful, rewarding outcome.
LASIK, or Laser Assisted In-Situ Keratomileusis, is a laser procedure that reshapes the surface of the cornea in order to reduce the amount of refractive error, effectively reducing the need for glasses and contact lenses. The procedure itself is performed using the latest advancements in vision care and technology with only minor discomfort.
While not everyone is a candidate for LASIK eye surgery, our doctors will perform a series of tests as part of a complimentary screening to determine if refractive surgery is right for you. Those wishing to be considered for the procedure must be at least 18 years of age, free of eye disease and certain medical conditions, have a stable refractive error that is within the correctable range and be willing to accept the potential risks, complications and side effects associated with the LASIK procedure.
Our doctors at Optometric Care are affiliated with TLC, the world-renowned laser center that became famous for performing custom LASIK. Many questions that you might have may be answered by visiting TLC's Web site at www.tlcvision.com.
To learn more about laser vision correction or to determine if you are a potential candidate, call Optometric Care today and ask for your free LASIK evaluation!
---
InfantSEE
The InfantSEE program is a national public health initiative that was designed to provide FREE comprehensive eye exams to infants between six and 12 months of age. The main goal of the InfantSEE program is to ensure that an infant's visual system is developing properly. Although infants are routinely examined in a pediatrician's office, base-level eye screenings can fail to detect potentially devastating conditions like amblyopia, strabismus and ocular tumors can be present without any early signs or obvious visual symptoms. Although serious problems are not common, it is important to identify any irregularities of your child's visual system that may interfere with development.
At Optometric Care, we take pride in having optometrists who specialize in the pediatric population and who actively participate in the InfantSEE program. To learn more about this valuable service or to schedule an appointment for your infant, call our office today. You can also visit www.infantsee.org for more information.
---
Low Vision Services
Dr. Paul Freeman, a low vision specialist, works directly with Optometric Care in evaluating and managing individuals with varying degrees of vision loss resulting from a number of conditions like macular degeneration, diabetic retinopathy, macular holes, multiple sclerosis, albinism, nystagmus, retinitis pigmentosa, trauma and stroke.
Low vision problems range from legal blindness to any vision impairment that prevents one from enjoying a desired visual activity with clear vision. Vision rehabilitation and low vision services aim to use special methods of evaluation and treatment to determine ways to maximize vision for individuals whose vision does not adequately meet their daily needs.
Our goal is to help you maximize your vision by using a wide range of optical and electronic devices, specifically designed and prescribed based on your individual needs. Low vision devices used in our practice include:
Speciality glasses and contact lenses
Magnifiers
Handheld telescopes
Spectacle mounted telescopes (bioptics)
Prism lenses
Closed–circuit televisions (CCTV)
Special filters
Large print materials
Through our low vision services, our goal is to maximize the functional use of any remaining vision after visual damage has occurred. It's important to talk with your eye care professional about your visual needs and problems that you might be experiencing in your daily activities. Our doctors will work with you to determine if you could benefit from the use of a specialty optical or low vision device.
---
Vision Therapy
Some visual dysfunctions such as poor eye alignment, eye focusing or eye movement ability cannot be treated adequately with glasses or contact lenses. Yet these problems can seriously hinder a child's ability to read and learn. Vision therapy is an individualized sequence of activities prescribed by the doctor to treat these types of visual conditions and to develop efficient visual skills and processing. Vision therapy is sometimes referred to as vision training, or orthoptics. Did you know that "vision defects are the most common cause of handicapping conditions in children" (Optometric Extension Program, 2000)? Did you also know that "visual impairment in childhood is associated with developmental delays and the need for special educational services often beyond childhood and into adulthood" (National Eye Institute, Task Force on Vision Impairment and its Rehabilitation, 1998)?
It has been estimated that 80 percent of what a child learns is processed through the visual system. Clearly, vision is fundamental to academics. For children to excel in an academic environment, an efficient visual system is required—one that operates effortlessly and automatically, freeing attentional resources to concentrate on the task at hand, be it reading or writing. Visual problems interfere with this process by draining these resources, making learning frustrating and arduous. Studies find that 70 percent of children identified as poor learners have a significant visual dysfunction. Unfortunately, these children often suffer needlessly, as vision is all too often overlooked as a contributing factor in poor reading and academic performance. During your child's comprehensive eye exam at Optometric Care, if an underlying visual disorder is discovered, your doctor may choose to perform a series of additional tests to determine if your child would benefit from a program of vision therapy.
Vision therapy programs at Optometric Care are designed to enhance the brain's ability to control eye alignment, eye teaming, eye focusing abilities, eye movements, visual attention and visual processing. The programs typically require a patient to come in to the office once a week for a 30-minute session. Workbooks and instructional guides are provided to each patient and contain instructions for activities to be done at home as reinforcement of what is learned during the office therapy sessions. Commitment to the therapy program and maintaining a regular schedule of weekly visits are important in the success of the program. When the program is complete, the benefits of vision therapy will last a lifetime!
To learn more about vision and vision therapy, visit any of the following Web sites:
www.visionandlearning.org
www.vision3d.com
www.covd.org

---
Emergency Eye Care
In the event that you have an eye-related emergency that you feel is in need of immediate attention, please call one of our offices at (724) 378-8585 or (724) 774-7232 to schedule an emergency appointment. If it is after hours and our office happens to be closed, please follow the recorded instructions on how to contact the doctor on call. No matter the circumstance, our doctors are available for eye emergencies, 24 hours a day, 7 days a week!