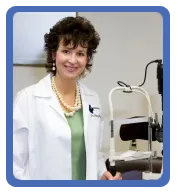 Nancy P. Wiggins, OD, FAAO
Dr. Nancy P. Wiggins graduated summa cum laude from Indiana University of Pennsylvania and received her Doctorate of Optometry, with honors, from the University of Alabama in Birmingham.
As a fellow of the esteemed American Academy of Optometry, Dr. Wiggins served on the Academy's Admission Committee for ten years. The letters FAAO (Fellow of the American Academy of Optometry) after an optometrist's name signify to colleagues and patients that rigorous qualifications for fellowship have been met. She is also a member of Beta Sigma Kappa Honorary Fraternity and the American Optometric Association.
Dr. Wiggins is also active in optometric education as a preceptor and adjunct faculty member at the Pennsylvania College of Optometry. She has presented numerous lectures and research papers at national and local optometric conferences. Locally, Dr. Wiggins is on staff at several area nursing homes and enjoys working with the geriatric population.
The readers of the Beaver County Times voted Dr. Wiggins "Best Eye Care Provider" in 2004, 2005 and 2007.
Actively participating in various civic organizations, Dr. Wiggins has served as president for local Lions International and Rotary clubs and has also been member of the board of directors of the Pittsburgh Boys and Girls Club. She was awarded the Big Brothers & Big Sisters of Beaver County Big Couple Award in 2003. Dr. Wiggins also teaches Sunday school at St. Stephen's Episcopal Church in Sewickley, Pa.
During her free time, Dr. Wiggins enjoys spending time with her husband, Mark, and twins, Nina and Noah. As a family, the Wiggins' are very active and enjoy skiing, sailing, mountain biking, swimming, and traveling.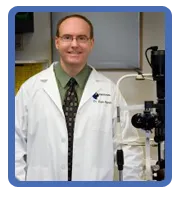 Devin G. Depner, OD
Dr. Depner attended Pacific University College of Optometry where he graduated with distinction in 1996. Following graduation, he completed a residency program in Pediatric and Binocular Vision at the State University of New York College of Optometry where he received advanced training in children's and infant's vision, the diagnosis and treatment of learning- related visual disorders as well as the non-surgical treatment of strabismus (eye turns) and amblyopia (lazy eye).
Dr. Depner lectures frequently to parents, teachers, school psychologists and other professionals on vision and visually-related learning problems. He is the head of the Foundations for Learning Center at Optometric Care. Foundations for Learning is a diagnostic and treatment center for children who suffer from visual problems that can cause reading and learning difficulties.
Dr. Depner is the recipient of the Tole Greenstein Award for Excellence in Vision Therapy and is a member of the College of Optometrists in Vision Development. This is an organization dedicated to bettering our understanding and treatment of childhood visual problems. He is also a member of the American Optometric Association and the American Academy of Optometry. In addition, he is on staff at several area nursing homes.
Dr. Depner lives with his wife Christie and their four children in Moon Township. Dr. Depner grew up in Portland, Oregon, and his wife is a native of Pittsburgh. Dr. Depner thinks Pittsburgh is a beautiful place, much like Portland, and that Christie was right when she said this city is a great place to live and raise a family.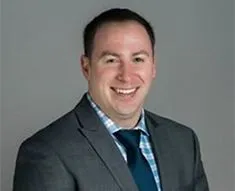 Andrew M. Rodriguez, OD

Dr. Rodriguez graduated from the Pennsylvania College of Optometry at Salus
University in 2013. Dr. Rodriguez has been associated with Optometric
Care, Inc since 2013. He provides primary care optometry and treatment of
ocular diseases including glaucoma, macular degeneration, retinal disease, and
diabetic retinopathy. Dr. Rodriguez also provides care in specialty contact fittings
including scleral, gas permeable, and hybrid contact lenses.

Dr. Rodriguez has professional memberships with American Optometric
Association and the Pennsylvania Optometric Association.

Dr. Rodriguez, his wife Jessica and dog Rooney reside just north of
Pittsburgh in Bellevue, PA.
Kevin D. Clark, MD
Kevin D. Clark, MD is a board certified ophthalmologist who has been consulting with Optometric Care for the past several years. Dr. Clark specializes in bifocal and toric implants. He also has a great deal of expertise in corneal and refractive surgeries, laser retinal treatments and glaucoma laser treatments.
Dr. Clark graduated summa cum laude from the University of Pittsburgh in 1985, where his educational emphasis was in chemistry, biochemistry, biophysics and French. Dr. Clark earned his medical degree in 1989 from the Washington University School of Medicine in St. Louis, Missouri.
After completing an internship at The Mercy Hospital of Pittsburgh, Dr. Clark entered his ophthalmology residency at the Eastern Virginia Graduate School of Medicine in Norfolk, Virginia, where he served as chief resident.
Dr. Clark has also served as an assistant clinical instructor in ophthalmology at the University of Pittsburgh.
Among his many achievements, Dr. Clark has earned special certifications in many specialized procedures, including custom LASIK, Intralase, PRK, Intacs, and premium implants including ICL, Verisyse, Acrysof Toric, Crystalens, ReSTOR and Rezoom.
In his free time, Dr. Clark enjoys playing music with several local bands and has written music for several local orchestras, including the Pittsburgh Philharmonic, McKeesport Symphony, Edgewood Symphony and Wheeling Symphony.

Stephen M. Conti, M.D.
Stephen M. Conti, M.D. is a fellowship-trained vitreo-retinal specialist, and is certified by the American Board of Ophthalmology.
Dr. Conti earned both his undergraduate and medical degrees from The Ohio State University. He completed his ophthalmology residency at McGill University in Montreal, and his retina fellowship at the University of Toronto. He then practiced retina in Chicago for seven years. Dr. Conti joined Optometric Care, Inc in 2017.
Dr. Conti has served as an instructor for the American Society of Retina Specialists, the University of Toronto ophthalmology residency program, and the McGill University Medical School. His research has been published in several ophthalmology professional journals, and presented at international retina specialty meetings